We value people
Our customers perceive us as an expert partner for solving their challenges. Our employees are the base for a worldwide organisation with its headquarters in Austria.
We set benchmarks
With our products we set aerospace testing benchmarks in the fields of service, technology, reliability and quality. With our aerospace components we are a flexible and innovative partner.
We think about tomorrow
With our success we want to secure a sustainable, positive development of our company for the next generation.
In our activities we value the protection of our environment.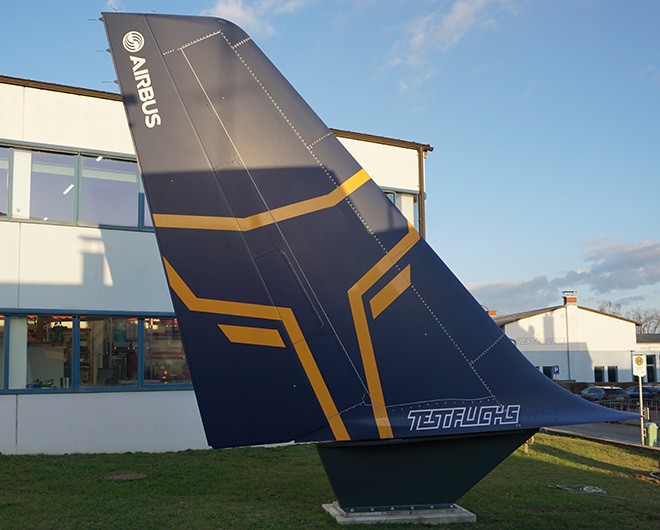 Founded in 1946
Design and manufacture of aircraft and aerospace testing systems and equipment
Expansion into design and manufacture of aircraft components
Approval and ground-breaking for maintenance of aircraft components
Design and manufacture of space components
Calibration and service
Production and service locations in Austria, Germany, Italy, Great Britain, France, Spain, Singapore, China and the USA
more than 600 enthusiastic employees
Test Equipment designed and built for more than 100 different aircraft types
Our Test Equipment is located all over the world
How it all began
February 1946, in a small village in the north-east of Austria, near the Czech border:
Mr Fritz Fuchs, an electrical engineer, founded "Messrs Fuchs & Ledl". Together with a staff of two, he carried out repair on all kinds of electrical appliances. The workshop was located in a small room of Mr Fuchs' home. The pay rate per hour was 1 Austrian Schilling, which equaled the price of 1 sqm of land. The foundations for the present-day company were established at Gross-Siegharts in 1947.
Gaining momentum
As the general economical situation improved the need for repair decreased. Mr Fuchs therefore changed the main focus of his young company to testing equipment for vehicles. Renaming the company was a logical consequence. In the early fifties, TEST-FUCHS also started to market its products outside the local area and won the Austrian Army as a customer.
Parallel to the reconstruction of the German aviation industry in the early sixties, TEST-FUCHS started to design and manufacture test equipment for aircraft components and was able to position itself as one of the leaders in this area.
Today
Having secured its good position in test systems, TEST-FUCHS has set up its own department for the maintenance of aircraft components i.a.w. JAR-145 (today EASA PART-145) in 1986. In 2010 the Division "TEST-FUCHS AEROSPACE" was founded.
In 1989, TEST-FUCHS started a project (in cooperation with DASA - today Airbus Defence & Space) in the field of cryogenics for the European Space Programme ARIANE. This lead to the installation of a seperate department for the design, manufacture and testing of space components for launch vehicles and satellites.
Since 1995, TEST-FUCHS has been developing and producing fuel, hydraulic and lubrication components and systems i.a.w. EASA Part 21 G for rotary and fixed-wing aircraft. (To date more than 7.000 units)
In 2006 TEST-FUCHS introduced the production of Standard products, which are commercialized worldwide with the help of partner companies.